Go back
Energy Efficiency in Buildings: EVIA welcomes the ambitious report adopted today
11/10/2017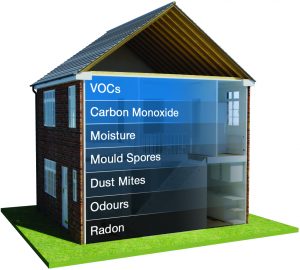 PRESS RELEASE
ENERGY EFFICIENCY IN BUILDINGS: THE VENTILATION INDUSTRYWELCOMES THE AMBITIOUS REPORT ADOPTED TODAY
Brussels, 11 October 2017:EVIA, representing the European VentilationIndustry, welcomes the vote of the European parliament's Industry Committee onthe review of the Energy Performance of Buildings Directive (EPBD) , which is amajor first step in recognizing the crucial importance of indoor air quality inbuildings for the sake of citizens' health, comfort and productivity and the key role ofventilation in that respect.
One insix Europeans lives in unhealthy buildings and 2 million healthy years are lostin the EU every year due to poor indoor air quality. The revision of the EnergyPerformance of Buildings Directive (EPBD) is a one-in-a-decade opportunity todrive the much needed changes and improvements in the existing building stockand promote systems and solutions that result in high indoor air quality, lowenergy consumption and consumers' empowerment. EVIA therefore welcomes the broadsupport that Mr Bendtsen, the ITRE rapporteur, and shadow rapporteurs achieved,and in particular the introduction of mandatory inspection of technical building systems,including ventilation systems, which is as aneffective way to reduce the energy needs from buildings and to ensure anappropriate level of indoor air quality.
RussellPatten, EVIA Secretary General, concludes: "We are pleased to see that theEuropean Parliament recognises the crucial importance of indoor air quality but caution that the upcoming discussions with the Council could result in alowering of ambitions. We therefore call on the Council to adopt a forward looking approach during the trilogues to achieve an ambitious agreement for thebenefits of European citizens ".
EVIA looks forward to engaging with EU decision-makers during the interinstitutional negotiations to achieve anambitious agreement in trialogue.
For additional information, pleasecontact us at secretariat@zl31wzvpi.preview.infomaniak.website
About EVIA:
The European Ventilation Industry Association (EVIA) wasestablished in Brussels in July 2010. EVIA's mission is to represent the viewsand interests of the ventilation industry and serve as a platform between allthe relevant European stakeholders involved in the ventilation sector, such asdecision-makers at the EU level as well as our partners in EU Member States.Our membership is composed of more than 35 member companies and 6 nationalassociations across Europe, realising an annual turnover of over 7 billioneuros and employing more than 45,000 people in Europe.
EVIA aims to promote highly energy efficient ventilationapplications across Europe, with high consideration for health and comfortaspects. Fresh and good indoor air quality is a critical element of comfort andcontributes to keeping people healthy in buildings.
Check our website: www.evia.eu