Go back
EVIA AGM 2018 Press Release
13/06/2018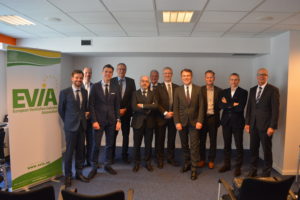 PRESS RELEASE 
EVIA holds 8th Annual General Meeting
Brussels, 01 June 2018: Representatives from the ventilation industry across Europe held their 8th Annual General meeting on 15-16 May where members took note of the excellent work that has been accomplished in the last year to raise the awareness of Indoor Air Quality amongst EU decision-makers, paving the way for much needed improvements which EVIA will make as one of its top priorities for the coming years.
The 2018 AGM saw the re-appointment of Joan Miro Ramos as Chairman, the re-appointment of Kurt Maurer and the election of Pierre Cruveillé to the board.
EVIA was also delighted to welcome this year three new members to the EVIA: CORE, Daikin Europe and Elektrovent.
Officially opening the proceedings, EVIA Chairman Mr. Joan Miro Ramos praised EVIA's work during 2017/2018. This included intensification of awareness raising activities on Indoor Air Quality (IAQ), close cooperation with the European Commission on Ecodesign and the organisation of a second EUREKA Conference in Berlin.
In conjunction with the 2018 AGM EVIA organised two workshops on topical issues in the ventilation sector. Expert speakers representing the industry, think-tanks and the European Commission discussed how to enable the spread of connected ventilation. Discussion covered the potential for smartness to empower consumers, tackle energy poverty, deliver energy savings and improve the health and well-being of citizens.
At the Standardisation Workshop the European Commission's Policy Officer illustrated the practical application of standardisation, its relationship with EU legislation and the EU's future work programme. Industry representatives subsequently presented case studies in the context of the Construction Products Regulation (CPR) and the Eco-design Directive exchanging best practice and highlighting issues of concern.
EVIA members and the Secretariat discussed priorities for 2018/2019, which will focus on the Energy Performance in Buildings Directive (EPBD) as EVIA will activate its national associations to ensure its proper implementation at Member State level, and will continue to make its expertise available to the European Commission as it draws up implementation guidelines and legislation.
EVIA will also begin to more thoroughly engage with connectivity issues having launched a dedicated Connectivity Working Group, under the initial leadership of Juergen Albig with a mandate covering smart and connected products as well as broader digital issues including cybersecurity and data protection.
Finally, EVIA is delighted to confirm its continued partnership with the European Partnership for Energy and the Environment (EPEE) on the EUREKA Conference series.
The Secretariat looks forward to welcoming current and new members to EVIA's 9th AGM, due to be held in Brussels on 14-15 May 2019.
If you have any questions, please contact secretariat@zl31wzvpi.preview.infomaniak.website, Tel: +32 (0) 2 732 70 40
***
About EVIA
The European Ventilation Industry Association (EVIA) was established in Brussels in July 2010. EVIA's mission is to represent the views and interests of the ventilation industry and serve as platform between all the relevant European stakeholders involved in the ventilation sector, such as decision-makers at the EU level as well as our partners in EU Member States.
Our membership is composed of more than 40 member companies and 6 national associations across Europe realising an annual turnover of over 7 Billion Euros and employing more than 45,000 people in Europe.
EVIA aims to promote highly energy efficient ventilation applications across Europe, with high consideration for health and comfort aspects. Fresh and good indoor air quality is a critical element of comfort and contributes to keeping people healthy in buildings.