Go back
EVIA holds 7th Annual General Meeting
11/05/2017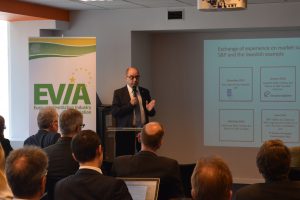 Representatives of 39 businesses and six national trade associations convened in central Brussels for the 7th Annual General Meeting (AGM) of the European Ventilation Industry Association (EVIA). Officially opening the proceedings, Chairman of EVIA, Mr. Joan Miro Ramos praised EVIA's work during 2016/2017 including intensifying activities on the Clean Energy Package, producing a third FAQ on Ecodesign requirements for ventilation units, as well as launching a specific campaign to raise awareness on the importance of indoor air quality.
Priorities for 2017/2018:
EVIA's programme for 2017/2018 aims to consolidate its activities and engagement with stakeholders on key EU legislative dossiers ranging from the central components of the Clean Energy for All Europeans Package, the Energy Performance in Buildings (EPBD), Energy Efficiency and to the Renewable Energy Directives. EVIA will also continue updating and promoting the association's Ecodesign FAQ in order to clarify rules applied to ventilation products to ensure effective implementation of the regulations.
EVIA will commence investigating the impact of digitisation on the industry, through the creation of a Digital Taskforce with a remit that will cover smart and connected devices, data privacy and security.
EVIA will also closely collaborate this year with the European Partnership for Energy and the Environment (EPEE) to host the second edition of the EUREKA Conference, which will be held in Berlin on 11-12 December, and focus on the contribution that heating, cooling and ventilation can make to sustainable lifestyles. A range of sponsorship opportunities are available and expressions of interest would be warmly welcomed.
Indoor Air Quality (IAQ) Campaign and Taskforce:
In 2017/2018 EVIA will continue to contribute to setting the agenda and raising awareness of the health effects of poor IAQ, in addition to its negative implications for productivity. EVIA's dedicated IAQ Taskforce led by EVIA's Secretary General Mr. Russell Patten, is committed to building on its successful programmes of events held in 2016. The IAQ Taskforce will also continue to represent EVIA in the EU decision-making process, conducting advocacy on the EPBD to promote systems and solutions that empower consumers to benefit simultaneously from lower energy consumption and better IAQ.
Elections to the Steering Committee:
Mr. Joan Miro Ramos was reappointed as Chairman of EVIA by the Steering Committee. The 2017 AGM also coincided with the lapsing of Treasurer Mr. Peter Fenkl's (Ziehl-Abegg) term on EVIA's Steering Committee. Mr. Fenkl was re-elected to the position of Treasurer.
The composition of the Steering Committee for 2017/2018 is as follows:
Joan Miro Ramos (Soler & Palau) – Chairman
Axel Diepolder (Helios) – Vice-Chair
Morane Rey-Huet (Aldes) – Vice-Chair
Peter Fenkl (Ziehl-Abegg) – Treasurer
Colin Timmins (BEAMA) – Associations Representative
Fabian Frick (Hoval)
Yves Lambert (Renson)
Kurt Maurer (Systemair)
Erik van Heuveln (Zehnder Group)
Expanding Membership:
EVIA was delighted to welcome three new members to the EVIA family in 2016/2017: Vortice, Bosch Thermotechnik and SIG Air Handling.
The Secretariat looks forward to welcoming current and new members to EVIA's 8th AGM which is to be held in Brussels on 15-16 May 2018.