Go back
PRESS RELEASE: EUREKA 2019 reveals the need for systemic change: Heating, cooling and ventilation – a journey beyond the usual comfort zone
17/06/2019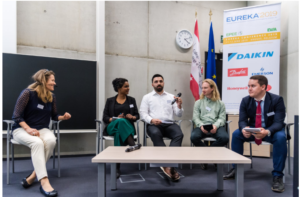 Brussels, 17 June 2019: The European Partnership for Energy and the Environment (EPEE) and the European Ventilation Industry Association (EVIA) held their third EUREKA conference on 11-12 June at the renowned College of Europe in Bruges, Belgium. Representing the Heating, Ventilation, Air-Conditioning & Refrigeration sector (HVACR), EPEE and EVIA organised EUREKA 2019 with a view to provide once again a platform for cross-generational debates, this time focusing on the UN Sustainable Development Goals (SDGs) as well as broader HVACR sector challenges like skills, employment and gender participation.
Two exceptional keynote speakers, Sir David King, Professor partner of SYSTEMIQ and former UK Foreign Secretary's Special Representative on Climate Change, and Hans van der Loo, Chairman of the Institute of Integrated Economic Research (IIER), STEM Ambassador and former Vice-President of Shell International, set the scene for thought-provoking debates during the two conference days. Both took the audience on a journey well beyond their usual comfort zone, reminding participants of the long-term goals embraced by the international community as part of the Paris Agreement and pointing to the required systemic changes that lie ahead if society is to make true progress.
High-level debates with representatives from an impressive number of national and international Institutions and organisations including UN Environment, Sustainable Energy for All, the International Finance Corporation (ICF), the European Commission's DG Energy and DG Research, as well as CAN Europe, the BPIE, Buildings 2030, the Coalition for Energy Savings and industry allowed for in-depth discussions about the food cold chain, buildings, skills and gender diversity in the HVACR sector – both from a European and global perspective. These organisations were challenged by students from various universities including the College of Europe, RWTH Aachen and Hochschule Karlsruhe who decided to participate in EUREKA as it offers a unique platform for a cross-sectoral debate.
Several major themes emerged during the two days, which also included a collective brainstorm with all participants on how HVACR can help achieve the Sustainable Development Goals:
For one, the urgent need to take an integrated approach, beyond the usual silo thinking, where present and future priorities such as energy efficiency, the energy transition and indoor environmental quality are seen as integral steps along the road towards a carbon neutral Europe while ensuring a high quality of life for all Europeans.
Second, the importance of joining forces, not only between different industry sectors, but also between the public and the private sectors. For example, Lily Riahi, Project Manager at UN Environment, took the opportunity to introduce the recently launched Cool Coalition, a movement gathering governments, business and society to address the challenges of sustainable cooling.
Third, the need for new business models, placing the concept of service, maintenance and interaction with the consumer at the heart of the company.
Finally, closely linked to new business models, the importance of taking a new approach on finance, for example by ending funding to fossil fuel technologies, introducing sustainability criteria for bank, green loans, etc.
Russell Patten, Secretary General of EVIA, said: "At EVIA we think that consumers should have the option to better understand their indoor environment quality. Today, most people generally are not aware of their indoor systems or how those systems affect their health and well-being".
Andrea Voigt, Director General of EPEE, said: "EUREKA2019 was once again a great opportunity to hear perspectives from various stakeholders along the HVACR value chain. Our industry is committed to making a difference for future generations and helping to achieve the UN's Sustainable Development Goals. We have the technologies, we have the ambition. Now, it is important that all actors sit around the table – from public to private, from the HVACR sector to health and digital – to work together on the way forward."
This year marked the third edition of the EUREKA conference, with previous editions held in The Hague and Berlin. In parallel to the conferences, the EUREKA team has also organised HVACR Roadshow events in Italy and Romania.
For more information, please visit EUREKA or get in touch via email: info@eureka-hvacr.eu.
EUREKA 2019 Diamond & Sapphire sponsors DAIKIN EUROPE and DANFOSS GROUP
***
ABOUT EPEE:
The European Partnership for Energy and the Environment (EPEE) represents the refrigeration, air-conditioning and heat pump industry in Europe. Founded in the year 2000, EPEE's membership is composed of 48 member companies, national and international associations from Asia, Europe and North America.
EPEE member companies realize a turnover of over 30 billion Euros, employ more than 200,000 people in Europe and have manufacturing sites and research and development facilities across the EU, which innovate for the global market.
They provide innovative and sustainable heating, cooling and refrigeration solutions to ensure quality of life, health and productivity while contributing to a carbon neutral future.
Please see our website (www.epeeglobal.org) for further information.
About EVIA:
The European Ventilation Industry Association (EVIA) was established in Brussels in July 2010. EVIA's mission is to represent the views and interests of the ventilation industry and serve as platform between all the relevant European stakeholders involved in the ventilation sector, such as decision-makers at the EU level as well as our partners in EU Member States. Our membership is composed of more than 41 member companies and 6 national associations across Europe realising an annual turnover of over 7 Billion Euros and employing more than 45,000 people in Europe. EVIA aims to promote highly energy efficient ventilation applications across Europe, with high consideration for health and comfort aspects. Fresh and good indoor air quality is a critical element of comfort and contributes to keeping people healthy in buildings. Check our website: https://www.evia.eu/en/